Feedback

We highly appreciate your valuable feedback on the hotel service you have experienced during your stay.


In association with www.slovakia.com
Bookings support
You can reserve directly here the accommodations listed, using the reservation form at the individual hotel web pages. Any questions you may have about the hotel/apartment (prices, availability &c.), please use the contact/reservation form on the page of the hotel/apartment.
Help choosing
If you need our asistance choosing where to stay, please use the form below. Please remember these details:
Arrival day and date
Departure day and date
Precise number of nights
Number of beds and rooms
Number of couples, children and their ages

Please also make clear:
Your minimum expectations (private bath, WC; self-cater kitchen; in-house restaurant; sports facilities, etc.)
your optimal, and maximum, price range.
Finally, it is important that you let us know how you will be travelling (by your own car, or by train and bus connections), because this can be an important factor in finding the optimal place for you.
Our mailing address is:
Preferred hotel
Hotel Mountain View
Poprad

Modern hotel in the Aquacity resort, at the foothills of the High Tatras.
Preferred hotel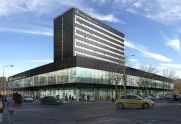 Doubletree Hilton
Kosice
Doubletree by Hilton is an ideal place for the meetings with your business partners. A 4-star hotel offers its services mainly to business travellers.